Video demonstration
Instructions
Click the Pronunciation button from the lesson script page, for our example we're in French > Bakery > Buying a loaf of bread (Acheter du pain)...

Click the triangular play button...

The native speaker will talk to you then the video will pause and the microphone will start recording, your screen look similar to this...

You don't have to reply straight away, particularly for learners who haven't completed this lesson before. We recommend stopping the microphone by clicking the red 'pause' icon...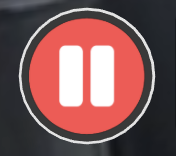 so that it turns green...
.
Let's explain what information is available on screen:
This box sitting above the native speaker's head shows you what they have said in the target language. There is a back button (available if you're further into the conversation) and a play button to replay the video...


Menu

- Country flags (toggles between the target language and base language translation)

- Alarm bell for turning on sound effects such as a siri on/off beep and correct response chime
- Turtle for slowing down the video or audio recordings by 20%
- Fullscreen icon...
- This is a 360° video so you can easily click and hold to drag the screen, look behind you!

The sentence written at the bottom is what ImmerseMe wants you to say out loud. You can press the play button to listen to a native speaker recording (remember you can use the turtle icon to slow it down by 20%) and the skip button on the right takes you to the next part of the conversation without getting a point. Use this option if you get 'stuck' but ideally you will be able to breeze through this sentence with a bit of practise!

Recording your response
Press the microphone and speak as clearly and accurately as you can to your computer. Stop and start the microphone as many times as you need to, to get the sentence uttered correctly without making a mistake.
High five when you get through the whole conversation! 🙌
Now you should be ready to progress to 'Typing' mode using the direct links below: